To represent the interests of owners and managers and the professional service providers in the rental housing industry.
Mission
To be the voice of the rental housing industry in the greater Toronto area through effective advocacy, government relations, training and development, industry networking and professional services to members.
Goals
To have every owner/manager of rental housing in the greater Toronto area be a member.
To have a large membership of professional supplier and contractor members who are able to provide a wide range of products, goods and services that are required in the rental housing sector.
To hold several important networking opportunities each year to encourage a greater interaction between property owner/managers and suppliers.
To increase the education and training of members and heighten the professional development of all members and their employees.
To be the premiere organization in the greater Toronto area interacting and advocating for the rental housing industry at the municipal level of government.
To provide in-house professional staff to assist members with questions or concerns and where possible refer those members to the proper agencies, authorities or professionals to assist them further.
To be the lead information conduits for members to receive timely and up to date information on

 

issues

 

relevant to the industry and actions taken by government which directly affect their businesses.
To operate a

 

Charitable Foundation

 

and raise funds for it in order to provide a maximum donation of funds each and every year into the community.
To partner with and work cooperatively with other associations at the provincial and national level that also advocate for the interests of the rental housing industry.
The Greater Toronto Apartment Association is an Association whose mission is to represent and protect the interests of private-sector, rental-housing providers through effective liaison with municipal governments in the greater Toronto area.
GTAA members are dedicated to enhancing effective communication between building owners and customers, maintaining the highest standards of building management and ensuring effective representation of the industry with the public at large and local government. This Code of Conduct shall guide the actions of all members.
Code of Conduct
Members shall abide by the bylaws of the Greater Toronto Apartment Association and act fairly with residents in a manner worthy of a Member of the Association.
Members shall operate the business of providing residential rental accommodation in a professional manner with high standards of integrity and honesty in their dealings with residents, suppliers, employees and contractors.
Members will strive to provide an environment, which is safe and secure for residents and employees.
As a minimum standard of conduct, Members shall make every effort to be aware of and comply with municipal, provincial and federal legislation and by-laws which apply to residential tenancies and the operation of residential buildings.
Members shall adhere to the provisions of the Ontario Human Rights Code.
Members shall bring to the attention of the Association and endeavour to change any laws or government policies, which are discriminatory, inequitable or prejudicial to either rental housing providers or residents.
Members shall seek to establish and maintain relationships with their tenants that are based on mutual respect as well as recognition and acceptance of the rights and responsibilities of both residents and building management.
Members shall make every effort to resolve disputes in good faith, first within their own organization and secondly through the mediation services of the Ontario Rental Housing Tribunal, where reasonable and applicable. Members shall participate in such processes in good faith and make every effort to contribute to speedy decisions.
Members shall strive to maintain and continually improve the professional standards of their business through education, training and information exchange and shall act in a manner that will enhance the image and goodwill of the rental housing industry, the Association and its Members.
Every Member shall endeavour to protect the public against fraud, misrepresentation and unethical practices.
A Member who violates this Code of Ethics may be reprimanded, suspended or expelled from the organization by resolution of the

 

Board of Directors. No such disciplinary action will be taken until a complete investigation has been conducted by the Organization and the Member has been given the opportunity to respond and, where appropriate, to correct the violation, but has failed to do so.
Board of Directors
NOVEMBER 2021 – OCTOBER 2022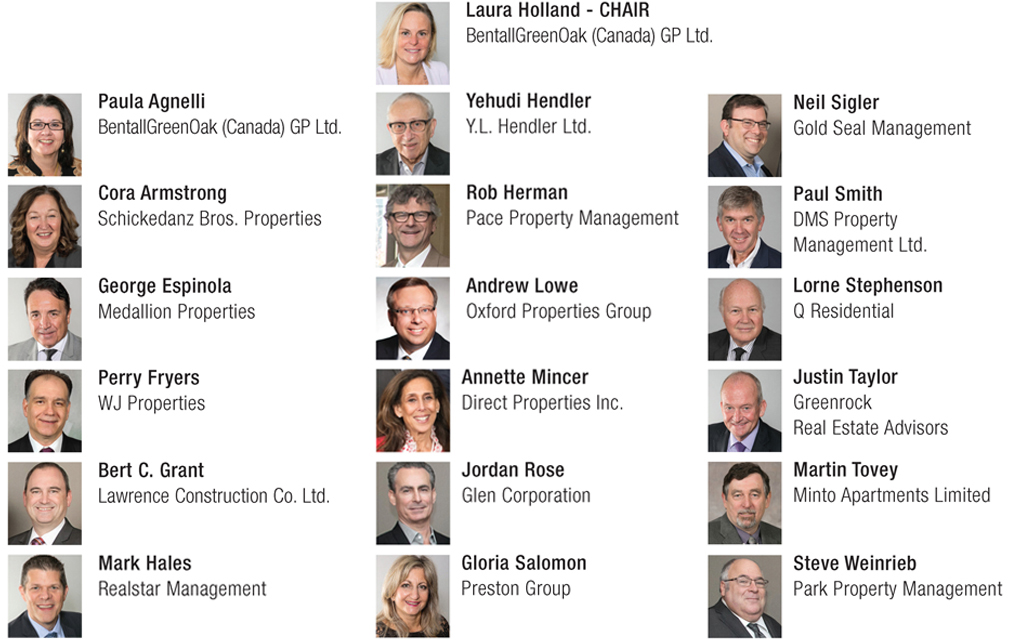 Each autumn, the Greater Toronto Apartment Association holds its Annual General Meeting & Election of Directors. The Annual Report is produced and circulated to members highlighting the achievements of the past year and including the audited financial statements of the fiscal year of July 1st – June 30th.